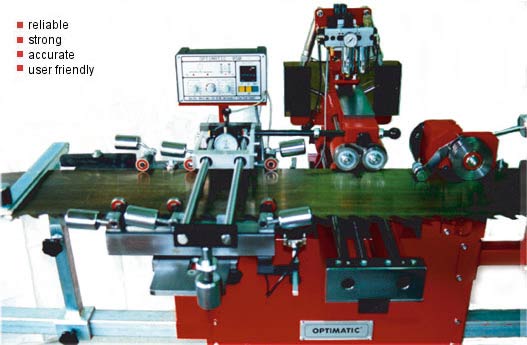 The leveler builds upon the strengths of Optimatic original leveler, making what was the unquestioned leader in automatic leveling an even more foolproof and accurate tool. Accuracy, after all, is what automatic leveling is all about!
Our levelers have succeeded where all previous designs have failed largely because they're built around a very simple operating principle - read a single continuous line around the saw, compare it to a reference zero, and press any up or down deviation back within tolerance. This stress-free approach to leveling makes saws more stable and extends their useful life.
The 942 leveler has features like automatic shut-off when saws are within spec and dual pressure for large bumps and small bumps. We've also added strength and rigidity - the strongest machine on the market just got stronger! And with its simple controls and adjustments, it can be mastered in a couple of hours.
The paybacks from automatic leveling - less deviation, kerf reductions, and simplified saw maintenance - have been well established. With X 100,000 hours of service on the original fleet of machines in the whole World marked, the choice is clear. If accuracy, reliability, simplicity, and strength seem like the right plan for your mill, we'll look forward to working with you.
Please contact us for more information and a copy of our users list of satisfied customers.
Specifications:
Connection value:
Electrical connetion:
400 V 50 Hz or special voltage
Air Pressure:
1/4″ Gas thread
Air:
Minimum 5 bar air consumption, 0,7 liter per stroke
Saw blade diameter:
Saw Wide:
From 80 mm to 300 mm wide or special up to 420 mm
Saw Long:
From 6 m
Saw Thickness:
0.7 mm to 2.7 mm adjustable gauge unit easy to handle for four different saw gauge
Leveler tolerance:
0,02 mm to 0,03 mm
Control:
Microprocessor control
Working time:
206 mm x 10 m ca. 50 Min
Dimensions:
Length without Saw supports:
2200 mm
Height:
1540 mm
Width:
1115 mm
Working position:
1110 mm
Weight:
650 kg