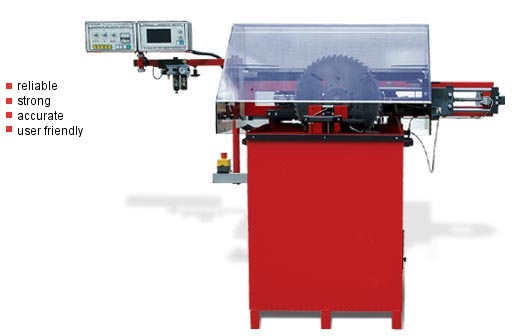 Optimatic latest Filing Room Equipment Innovation is the Vertical Circular Saw Leveler. This compact machine is laser accurate, genuinely gravity free, fast and powerful, and provides "one touch" operation.
The simple set up process of 1)
load the saw, 2)
press the button and then 3)
remove a level, dish free saw has been sped up incredibly by the addition of Radial Rolling capability. Optimatic patent pending new Ball Design allows the machine to not only roll in concentric circles, but to also attack ridges in straight lines. You've got to see what this machine can do!

The intuitive controls of this machine make for the simplest operation imaginable. The machine stops automatically when the work cycle is complete, you change saws, and push a single button to process the next saw. The machine automatically measures the saw diameter and processes it without any other input from the operator. If a dish condition is detected, the machine will remove it, and then work the rest of the saw for level and automatically stops when done to prevent overworking the saw plate. The VCL will roll either concentrically or radially depending on which is better and faster for the saw. Saw gauge changes are made with a simple turn of the wrist. You can load as many as four plate gauge presets for immediate access.

This machine will automatically remove radial bumps. The key to removing radial bumps is working as close as possible to the eye. This machine has been specifically designed to work very close to the splines to get these tough bumps out. The machine comes ready to level #3 spline eye saws and can be customized to handle alternate center hole configurations and / or saws with slots and strobes as well.

The compact design of this machine belies its strength. The mass of the Optimatic Vertical Circular Leveler is where it counts - in the workhead. The massive casting that does the work provides unmatched power. The machine has a small footprint and is a neat compact package designed to fit comfortably into any filing room.
Vertical working is only possible for saw without slots and strobes.
Specifications:
Connection values:
Electrical connetion:
400 V 50 Hz or special voltage
Air Pressure:
1/4″ Gas thread
Air:
Minimum 5 bar air consumption, one liter per stroke
Saw blade diameter:
Largest saw blade diameter:
810 mm
Minimum saw blade diameter:
150 mm
Sheet thickness max.:
4 mm
Sheet thickness min.:
1 mm
Processing for Ø 700:
Once a judge = 10 Min.
Directional accuracy:
0,03 mm
Control:
Microprocessor control
Measurement:
Non-contact Laser-based measuring
Dimensions:
Length:
1700 mm
Height:
1650 mm
Width:
1100 mm
Working position:
1000 mm
Weight:
850 kg